FOR SALE: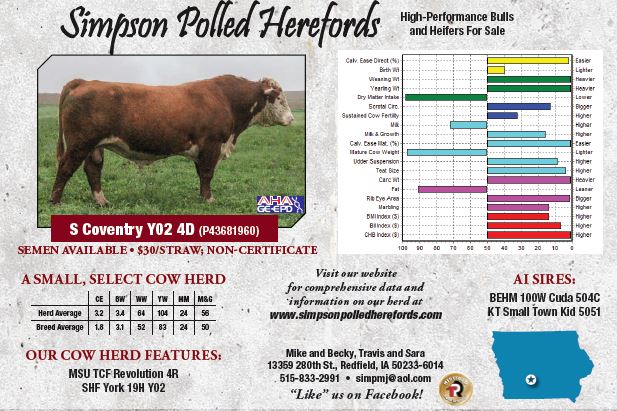 Herd Reduction Announcement:
This spring we were faced with the difficult task of reducing our cow herd from 17 to 10 females due to the loss of about 40 acres of summer pasture.
Deciding which females to sell and which to keep was a difficult challenge since we have selected for performance over many years and the 17 we calved out
we felt were all "keepers". The 7 pairs we finally chose to let go would not have been for sale under normal circumstances.

Thank you to Stoney Hinshaw and Georgia Plumb of Pine Ridge Herefords, Malcom, Iowa, for seeing the merit in these pairs and purchasing the entire group. The cows
have calves at side sired by KT Small Town Kid 5051, S Coventry Y02 4D - our current herd sire by York, and S Marksman 936 84B - our previous herd sire.
We appreciate the confidence Stoney and Georgia have shown in our breeding program and we expect the cattle will perform as well for them as they have for us.
We are excited to see these females stay in production with another registered Hereford program.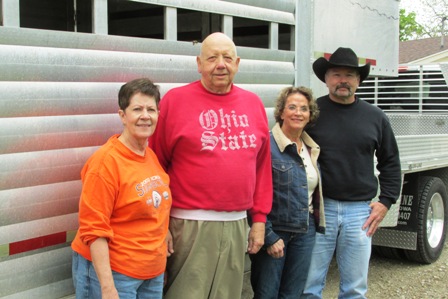 Becky & Mike with Georgia & Stoney

2018 Bulls - SOLD OUT

Thank you to our bull buyers!
65F: Jason McCunn - Red Oak, IA (Three time buyer)
66F & 74F: Joel Handlos - Honey Creek, IA

All of our bulls are sold with the following guarantees:
- Bulls have passed a Breeding Soundness Exam
- Yearling weight, hip height, scrotal, and carcass ultrasound measured at time of BSE
- All bulls have been DNA tested free of genetic defects and have GE-EPDs
- Guaranteed delivery in good health. Delivery available within Iowa.

Links we recommend to aid with your bull selection process:

Understanding Hereford EPDs
The Power of Genomically Enhanced EPDs

*Pictures and video taken on 4/21/19
*EPDs as of 5/6/19
*Pictures, EPDs, and performance information will be updated regularly on this page

Click on the bull's name to view his pedigree and complete production information provided by AHA
Breed Rank = top percentile EPD rank in breed for all Herefords


S VIV'S REBEL 73Z 66F
*SOLD*

DOB: 2/26/18


CE
BW
WW
YW
MM
M&G
SC
REA
Marb
BMI
CHB
2.8
1.8
55
81
19
47
0.6
.40
.33
$392
$104
Breed Rank
45%
25%
40%
60%
85%
65%
75%
45%
5%
20%
45%




Dam: SCHU-LAR 917 VIVIAN N008 774ET
Sire: S REBEL 4R 73Z
Actual Birth Weight: 83 lbs
Weaning Ratio: 95
Yearling Ratio: 87
* Heterozygous Polled
* Scurred


Comments: Out of a dam from the performance proven
Schu-Lar Vivian cow line. Sired by our home bred Revolution son
whose dam made Dam of Distinction. Lots of proven maternal traits
on both sides of this bull's pedigree.
S FELTHORPE 4D 74F
*SOLD*

DOB: 4/21/18


CE
BW
WW
YW
MM
M&G
SC
REA
Marb
BMI
CHB
8.8
3.6
66
119
24
58
1.7
.61
.32
$417
$127
Breed Rank
10%
65%
5%
1%
50%
15%
1%
10%
10%
10%
3%




Dam: S SCHU-LAR ANNETTE 3T 3Y
Sire: S COVENTRY Y02 4D
Actual Birth Weight: 88 lbs
Weaning Ratio: 113
Yearling Ratio: 125
* Homozygous Polled



Comments: Our top ratio bull at weaning. Out of one of our most
consistent performing cows with performance record of 6 WW ratio
averaging 105.2 and 4 YW ratio of 110.5
S PRIME RATE 226Z 65F
*SOLD*

DOB: 2/25/18


CE
BW
WW
YW
MM
M&G
SC
REA
Marb
BMI
CHB
7.4
1.1
63
100
28
59
1.2
.55
.13
$473
$123
Breed Rank
15%
15%
10%
10%
20%
10%
20%
15%
.35%
1%
5%


Dam: S REVA 4R 74Z
Sire: FTF PRIME PRODUCT 226Z
Actual Birth Weight: 84 lbs
Weaning Ratio: 101
Yearling Ratio: 105
* Heterozygous Polled


Comments: Out of one of our best Revolution daughters. Here is a bull
that you can use on heifers with confidence that will add growth and
maternal traits. Pigmented with a stylish phenotype.

FINAL ON TEST DATA


Bull

DOB

BW

205
WW Ratio

4/15 WT

Adj 365

YW Ratio

Scrotal

Frame

ADG
(121days)

WDA

REA
4/15


REA
Adj 365


IMF
4/15

IMF
Adj 365

65F
2/25/18
84
101
1280
1126
105
36
5.4
3.51
3.09
12.8
12.05
2.52
2.44
66F
2/26/18
83
95
1050
929
87
32.5
5.7
2.43
2.54
12.0
11.27
2.94
2.86
74F
4/21/18
88
113
1330
1340
125
40
6.6
4.50
3.70
14.8
14.89
3.71
3.72




Breed
Average
CE
BW
WW
YW
MM
M&G
SC
REA
Marb
BMI
CHB
1.9
3.1
52
83
24
49
0.9
.37
.10
$324
$102






For more information and pricing call 515-833-2991
or email Mike at simpmj@aol.com


Females sold in Fall, bulls in Spring