Herd Sires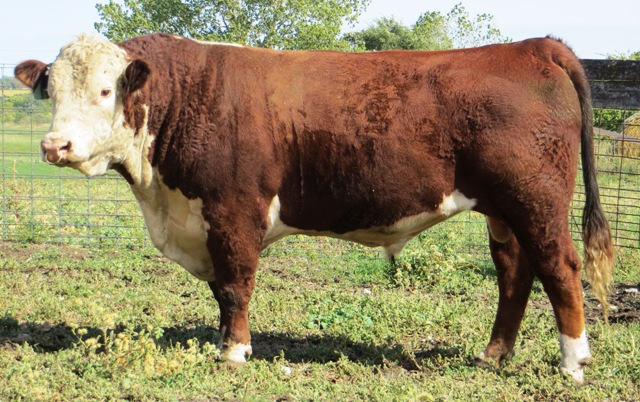 R Puckster III 5080
CE 4.7 BW 0.6 WW 57 YW 79 Milk 27 M&G 55
Sire: R Puckster II 2027
Dam: R Miss Felt 067
Sold to Phil & Deb Kahler - Elgin, IA
Purchased from Rausch Herefords
A classy, smooth made Puckster bull with eye pigment and solid marking.
A long-sided bull with solid numbers that works well on heifers.
Dam is a top producing Revolution cow with +26 milk EPD.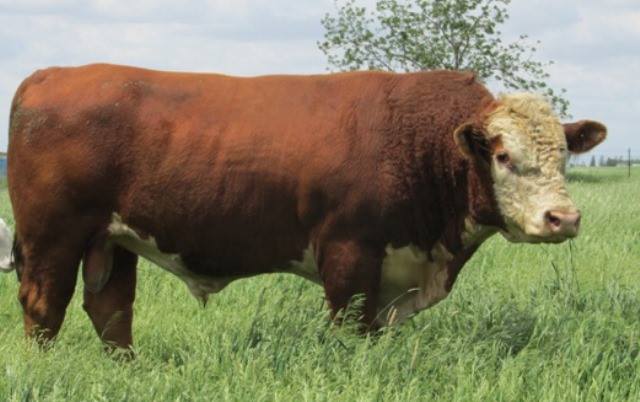 S Rebel 4R 73Z
CE 0.8 BW 4.8 WW 70 YW 121 Milk 25 M&G 60
Sire: MSU TCF Revolution 4R
Dam: S Logic's Cowgirl 31X
Sold full posession to Wiese & Sons Manning, IA
Home raised Revolution son that we are very excited about.
Ranks in the top 1% in breed EPDs for WW YW M&G REA and CHB
Dam is a Logic daugther out of a Dam of Distinction.
Very rich pedigree. We are retaining semen interest for in-herd use.

AI Sires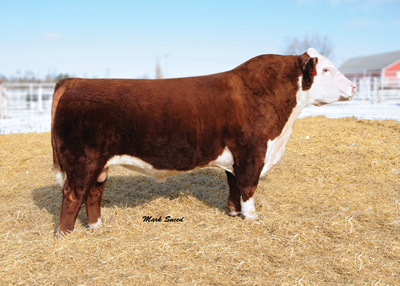 MSU TCF Revolution 4R
CE 3.3 BW 2.6 WW 67 YW 107 Milk 25 M&G 58
Notes from Genex: The breed's No. 1 registration sire! Revolution is a top combination sire for
calving ease, growth and big REA EPD. His daughters are recognized for their snug udders
and small teats; whether purebred or baldies, they make beautiful cows.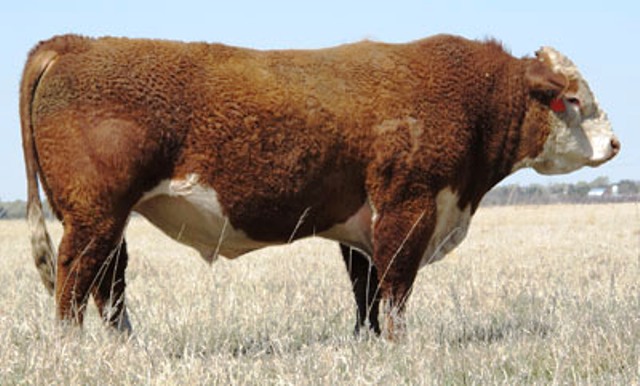 HYALITE ON TARGET 936
CE 3.6 BW 2.9 WW 71 YW 121 Milk 25 M&G 61
Balanced EPD's. Thick and Muscular.
Breed trait leader in 13 EPD categories.
His progeny are popular in the Rausch Hereford sales. Loaded with muscle,
low birth, high growth and carcass traits
Comments from Rausch Herefords: His first progeny are proving him to be
the thickest herd sire we have used. His performance is also among
the highest of any herd sire we have tested.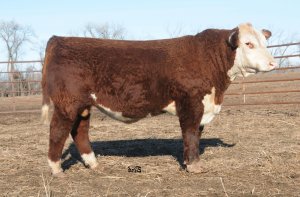 SHF YORK 19H Y02
CE 6.5 BW 0.2 WW 70 YW 107 Milk 21 M&G 57
Comments from Sandhill Farms: Light birth weight, exceptional growth, excellent carcass,
large scrotal and he did all of this in a contemporary group of 93-head.
Add to that, his sire, maternal sire, and maternal grand sire have all been tested
in multiple reference sire tests with high EPD accuracies. Physically, his dam
is a typical Progress daughter: deep ribbed, beautiful udder and teat placement
and quick to re-breed. His dark red color, moderate size, added muscle
and capacity, and good semen production make him an exciting prospect!

Reference Sires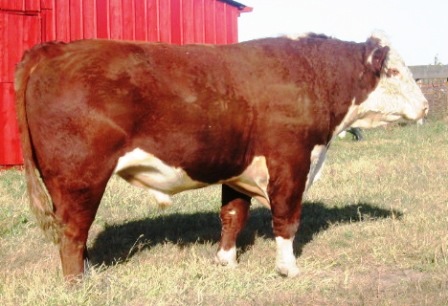 S Classic 10H 85S
CE 3.4 BW 0.5 WW 46 YW 70 Milk 20 M&G 43
Sire: DR World Class 517 10H
Dam: S Sunny Delight 22L 53P
Home raised, balanced trait bull sired by one of the multiple trait leaders in the breed.
Two Dam of Distinctions in dam's maternal pedigree.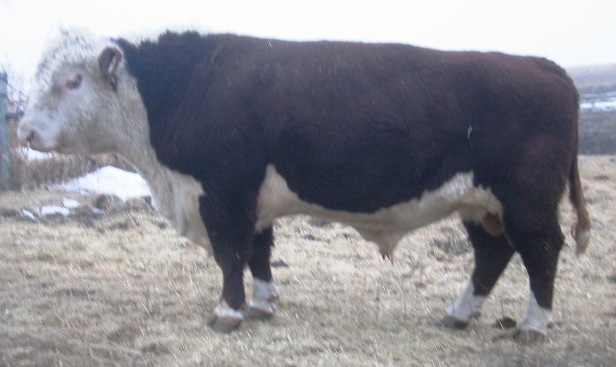 PPH 29F Deacon 406P
CE 0.6 BW 4.2 WW 48 YW 86 Milk 22 M&G 46
Actual birth weight: 86 lb.
***Semen available***
Purchased at 2006 Iowa Beef Expo from Paul Polled Herefords, Marseilles, IL
Deacon is a thick, deep bodied son of the late great Boomer 29F
Deacon won his class at the Iowa State Fair and was Reserve Junior Champion in Wisconsin
Dam produced top selling bull at 2003 Iowa Beef expo and a
2004 Iowa State Fair and World Beef Expo Champion Bull sold to Star Lake and Hudson Herefords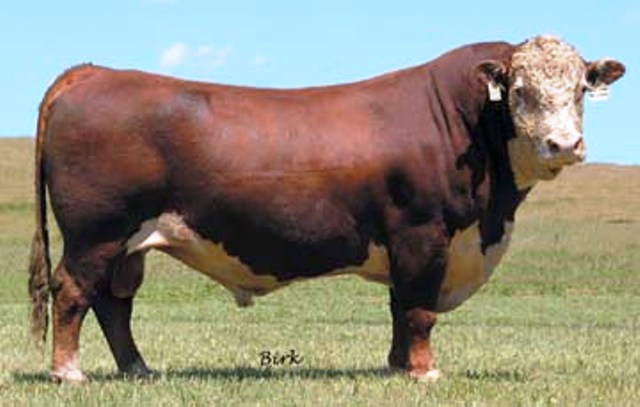 KJ C&L J119 Logic 023R ET
CE 4.0 BW 1.4 WW 64 YW 101 Milk 26 M&G 58
Logic has become one of the most predictable sires in the breed.
He sires outstanding, highly efficient females and top bulls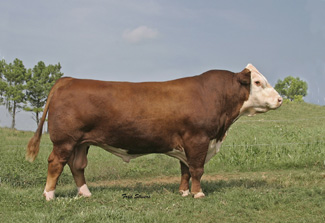 DR World Class 517 10H
CE 3.9 BW 2.8 WW 61 YW 90 Milk 33 M&G 63
Notes from Accelerated Genetics: World Class is one of the most impressive sires
in the Polled Hereford breed. He's an 11-way trait leader and his daughters are
superior young cows, ratioing 103.

INDEX
CE: Calving Ease
BW: Birth Weight
WW: Weaning Weight
YW: Yearling Weight
M&G: Milk and Growth